The convener of the Media Coalition Against Illegal Mining has challenged all political parties to put forward "concrete plans" to battle small-scale illegal mining.
Expressing strong sentiments about the persisting menace, Kenneth Ashigbey said: "we do not want just talks."
He said, ahead of the December presidential and parliamentary elections, all political parties must present immediate plans to Ghanaians on how they intend to resolve the criminal act which has destroyed water bodies in the country.
Speaking on JoyNews' PM Express programme on Monday, Mr Ashigbey argued the two main parties, the National Democratic Congress (NDC) and the governing New Patriotic Party (NPP) have shared power since the start of the fourth republic and have "dealt with this before."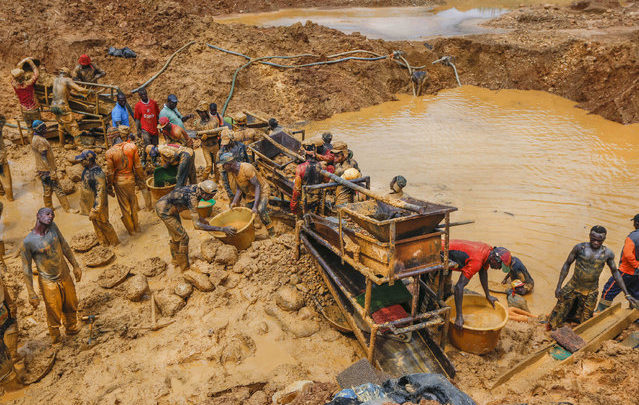 For that matter, he said the two parties know the problem and should tell voters practical and immediate steps they would take to fight it once and for all.
His comments come after the Ghana Water Company Limited (GWCL) announced it would be forced to "stop producing water entirely" in the Western Region should small-scale illegal mining continue.
GWCL's Communications Manager, Stanley Martey, in an interview on Joy FM indicated 'galamsey', as the menace is known locally, has increased the cost in treating water since the water bodies are badly polluted by chemicals.
"For instance, if you have to abstract the water and you lose about 60% considering the energy and the chemical cost and everything, it will not be prudent for you to be treating water. So it means that we have to stop producing water entirely [currently in the Western Region]."
These revelations have triggered fresh calls for the government to take action against 'galamsey' as it was revealed recently that the menace is back after a brief success chalked.
President Nana Akufo-Addo himself has promised to solve the problem even if it meant putting his presidency on the line.
Lauding his tough-talk, Mr Ashigbey said it is about time he held his appointees accountable.
He said the Lands and Natural Resources Minister, the Forestry Commission officials and district officials must all get on the train to fight and defeat 'galamsey' once and for all.
credit: myjoyonline.com